MFT-R4000高速往复摩擦磨损试验仪
来源: 华汇仪器 作者: admin 时间: 2019-10-23 10:03 点击: 次
MFT-R4000高速往复摩擦磨损试验仪针对材料表面及薄膜在不同载荷、不同频率、不同温度及不同气氛下高速往复运动形式的摩擦性能和耐磨强度进行定量评价。在腐蚀液体中进行摩擦磨损测试,主要模拟海、江湖及人体体液中的腐蚀摩擦状态。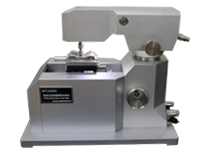 MFT-R4000高速往复摩擦磨损试验仪运用球-盘之间摩擦原理及微机自控技术,将砝码或可变载入机构加至磨球上,材料试样随试验台运用偏心轮原理,以设定的频率,实现摩擦副的高速往复运动,通过传感器获取摩擦时的摩擦力信号,经放大处理,输入计算机经A/D转换将摩擦力信号通过运算得到摩擦系数曲线。
μ=F/N
μ—摩擦系数
F—摩擦力
N—正压力(载荷)
通过摩擦系数曲线的变化得到材料或薄膜的摩擦性能和耐磨强度,即在特定载荷下,经过多长时间(多长距离)摩擦系数会发生变化,此时薄膜被磨损并通过称重法得到材料表面磨损量。
高温摩擦磨损试验通过加热板加热样品(或油槽),使样品按照设定温度试验。
可控气氛组件通过真空泵将空气抽干,通入实验所需气氛(氮气、氦气等),使样品在不同气氛中试验。
磨损量检测组件通过检测磨损深度可直接得到磨痕的截面积。
电化学工作站测试组件由电化学工作站及液体槽组成。样品至于样品槽内,通过工作
电极(下摩擦副接触电极)和参比电极可以得到摩擦过程中电化学变化。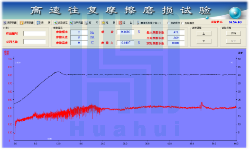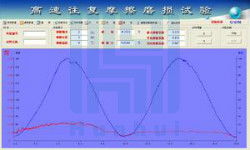 (恒定加载曲线) (正弦波加载曲线)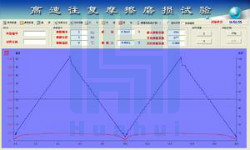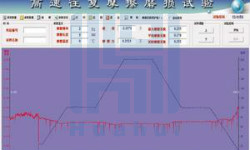 (三角波加载曲线) (梯度波加载曲线)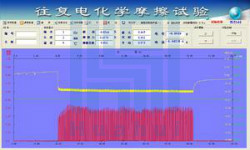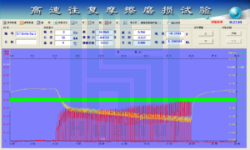 (电化学腐蚀试验曲线) (电化学腐蚀试验曲线)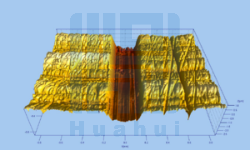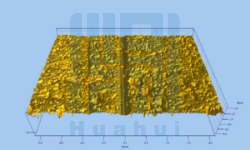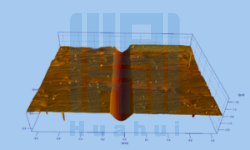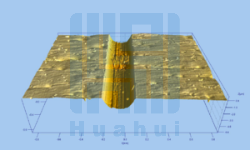 (立体形貌图)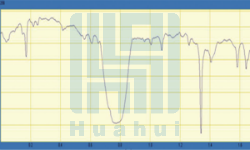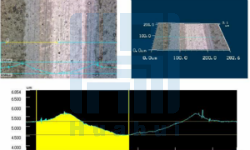 (分析曲线)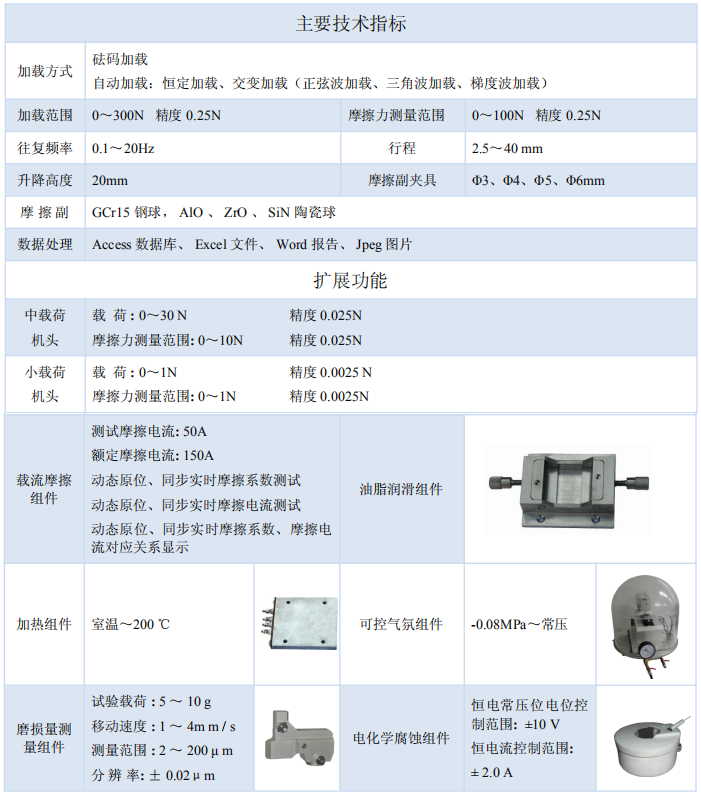 MFT-R4000 high speed reciprocating friction wear tester
MFT-R4000 is a multifunction tester used for evaluating the high speed reciprocating friction and wear performance of materials and films under different environment with variation of load, frequency, temperature and gas. It is also applied in the friction and wear measurement under corrosive solution, mainly simulating the conditions of sea, river, lake, and body fluid, etc..
Based on the ball-on-disk friction principle and the auto-control technology, the samples are fixed on the MFT-R4000 tester and the weight or variable loading mechanism was applied on the friction ball. The material samples move reciprocally with high speed at fixed frequency based on the principle of eccentric principle. The curve of the friction coefficient will be obtained by processing the data of friction signal transformed via the A/D converter.
μ=F/N
μ—friction coefficient
F—friction force
N—normal load
Friction properties and abrasion resistance of the material or film will be obtained through the change of the friction coefficient curve, i.e., under a specific load, after a certain time (certain distance), the friction coefficient will be changed, in that moment, the film is worn out and the wear volume will be obtained by the weighing method. The high-temperature friction and wear test can be conducted by heating the sample (or tank) with a set temperature.
The controlled atmosphere components extract gas through vacuum pumps and gases(N2、He and etc.) are passed in so that samples could be tested in different atmospheres.
The section area of wear scar will be obtained directly by measuring the wear depth using the detection component of the wear loss.
Electrochemical workstation test components include the electrochemical workstation and liquid tank. The sample is put into the sample vessel and the electrochemical changes in the friction process will be detected through the working electrode (the underneath counterpart as contact electrode) and the reference electrode.

The main technical indicators of instrument
1. Loading way:
a) Weight loading;
b) Automatically loading: constant loading,
Alternating loading (sine wave loading, triangle wave loading, gradient loading);
2. Loading range:
1~ 300N, the accuracy is 0.5N;
0.1~ 30N, the accuracy is 0.05N (Selectable);
0.1~ 1N, the accuracy is 0.0005N (Selectable);
3. Friction measurement range:
1~ 100N, the accuracy is 0.5N;
0.1~ 10N, the accuracy is 0.05N (Selectable);
0.1~ 1N, the accuracy is 0.0005N (Selectable);
4. Reciprocating frequency: 0.1 ~20Hz;
5. Reciprocating times: not limited;
6. Lift height: 25mm;
7. Reciprocating distance: 2.5 ~ 40mm;
8. Mating materials diameter: Φ3 mm, Φ4 mm, Φ5 mm, Φ6 mm
9. Friction pair materials: GCr15 steel ball, AlO ceramic ball, ZrO ceramic ball, SiN ceramic ball
10. Test operation: keyboard operation, microcomputer control;
11. Data processing: the Access, Excel database file, Word experiment report and Jpeg picture can be generated
12. Optional:
→Heating components (room temperature to 300 ° C);
→Wear measurement components:
1) Test load: 5g ~ 10g;
2) Sample moving speed: 1mm/s ~ 4mm/s;
3) Measurement range: 2μm ~ 200μm;
4) Specimen thickness: 1mm to 10mm;
5) Resolution: ± 0.02μm;
6) Indenter: diamond with 90° cone angle, the tip radius is 0.1mm;
7) Wear rate: cross-sectional area of wear scar mm2 (wear volume / N• min);
→The controlled atmosphere components: the atmospher~-0.08MPa;
→Electrochemical workstation test components:

Hardware specifications:
The potentiostat controlled range: ± 10V;
The continuous current controlled range: ± 2.0A;
Potential control accuracy: 0.1% × full scale reading is ± 1mV;
The current control accuracy: 0.1% × full scale readings;
Potential resolution: 10μV (> 100Hz) 3μV (<10Hz);
The current sensitivity: 10pA;
Potential rising time:<1μS (<10mA) <10μS (<2A);
Reference electrode input impedance: 1012Ω | | 20F;
Current range: 2A ~ 200nA, 8 gears;
Tank voltage: ± 21V;
Maximum output current: 2.0A;
Scanning rate of CV and LSV: 0.01mV ~ 10000V / s;
Pulse width of CA and CC: 0.0001 ~ 65000s;
Current scanning increment: 1mA @ 1A/mS;
Potential incremental of potential scanning: 0.1mV @ 1V/mS;
SWV frequency: 0.001 ~ 100 KHz;
Pulse width of DPV and NPV: 0.0001 ~ 1000s;
AD data acquisition: 16bit @ 1MHz, 20bit @ 1 KHz;
DA Resolution: 16bit, set-up time: 1μS;
Minimum potential incremental of CV: 0.075mV;
IMP frequency: 10μHz ~ 115 KHz(CS350);
Low-pass filter: 8 segments programmable;
Current and potential range: Automatic setting;
Interface communication mode: USB2.0;
Electrochemical impedance function indicators:
Signal generator:
Frequency response: 10 mHz ~ 115 KHz (CS350);
AC signal amplitude: 0mV ~ 2500mV;
DC bias: -10 ~ +10 V;
The DDS output impedance: 50Ω W;
Waveforms: sine wave, triangle wave, square wave;
Sine wave distortion:<1%;
Scanning mode: the log / linear, increase / decrease;
Maximum load capacitance: 1nF; maximum load inductance: 10μH;
Signal Analyzer:
Integration time: Minimum: 10mS or a cycle for a long time;
Maximum: 106 cycles or 105S;
Measuring time delay: 0 to 105 seconds;
DC offset compensation:
The potential automatic compensation range:-10V ~ +10 V;
Current compensation range:-1A +1 A;
Bandwidth adjustment (Bandwidth): set automatically or manually, total eight gears adjustable;
---
兰州华汇仪器科技有限公司
Lanzhou Huahui Instrument Technology Co.,LTD.
地址:甘肃省兰州市城关区南昌路582号 邮编:730000
电话:86-(0)931-8264370 手机:86-(0)13993192923
传真:86-(0)931-8264370 邮箱:minqih@lzb.ac.cn sszhang@clhis.com